American History in Video
5,752 videos, including commercial and governmental newsreels, archival footage, public affairs footage, and documentaries


Ethnic NewsWatch (ProQuest)
Full-text newspapers, magazines, and journals of the ethnic and minority press, providing access to essential, often overlooked perspectives.

GenderWatch (ProQuest)
Journals, magazines, newspapers, newsletters, regional publications, books, NGO reports, government documents. 1970-present.

America: History and Life with Full Text (EBSCO)
U.S. and Canadian history


Historical Abstracts with Full Text (EBSCO)
World history, excluding the United States and Canada, from 1450 to the present

Communication & Mass Media Complete (EBSCO)
Speech, communication, media and journalism, articles as early as 1915 to the present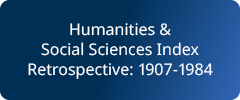 Humanities & Social Sciences Index Retrospective (EBSCO)
Content from 1907-1984
Offers a broad range of subject coverage in the humanities and social sciences with high-quality indexing of more than 1,300,000 articles in nearly 1,100 periodicals, dating as far back as 1907, as well as citations of over 240,000 book reviews
MasterFILE Premier (EBSCO)
All subject areas, including country reports, biographies, historical primary documents, and an image gallery, from 1985 to the present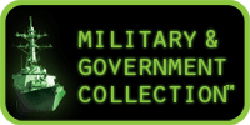 Military & Government Collection (EBSCO)
All branches of the military and government, 1995-present

Peace Research Abstracts (EBSCO)
Includes bibliographic records covering essential areas related to peace research, including conflict resolution, international affairs, peace psychology, and other areas of key relevance to the discipline.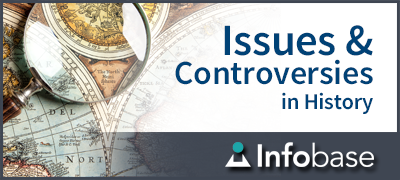 Issues & Controversies in History

Nexis Uni (LexisNexis Academic)
In addition to find newspapers, wire services, broadcast transcripts, Nexis Uni is a great place to search for court cases and law reviews.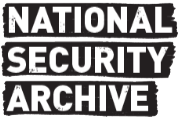 National Security Archive
Collections of declassified primary documents in foreign affairs and domestic politics obtained through Freedom of Information Act (FOIA) by journalists and scholars