SocINDEX with Full Text (EBSCO)
The world's most comprehensive and highest quality sociology research database. Contains full text for more than 860 sociology journals dating back to 1908.
Social Sciences Full Text (EBSCO)
Scholarly articles in the social sciences, including sociology; also includes Environmental Studies, Gender Studies, and Geography.

ICPSR
Find raw data in this online repository of data sets from the Inter-University Consortium for Political and Social Research.
---
Academic Search Complete (EBSCO)
Articles in many disciplines, many from scholarly journals; extensive full text.
APA PsycINFO (EBSCO)
PsycINFO is an expansive abstracting and indexing database with more than 3 million records devoted to peer-reviewed literature from the 1800s to the present.

Religion & Philosophy Collection (EBSCO)
World religions, major denominations, popular and scholarly journals, extensive full text.
Women's Studies International (EBSCO)
Women's studies, including sociology, politics.

Disability in the Modern World
A collection of academic literature about the community and contributions of people who experience disability. It includes primary sources, supporting materials, and archives, along with 125 hours of video.

Dissertations & Theses Global (ProQuest)
The world's most comprehensive collection of full-text dissertations and theses.
Offers full text for most of the dissertations added since 1997 and strong retrospective full-text coverage for older graduate works.


Ethnic NewsWatch (ProQuest)
A current resource of full-text newspapers, magazines, and journals of the ethnic and minority press.

GenderWatch (ProQuest)
GenderWatch provides researchers with hundreds of thousands of articles on wide-ranging topics like sexuality, religion, societal roles, feminism, masculinity, eating disorders, day care, and the workplace.

Factiva
National and international newspapers, 1980s to present.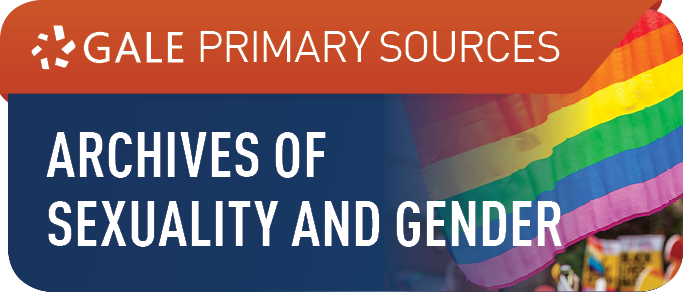 Gale Archives of Sexuality & Gender: LGBTQ History Since 1940, Parts I and II
The archive illuminates the experiences not just of the LGBTQ community as a whole, but of individuals of different races, ethnicities, ages, religions, political orientations, and geographical locations that constitute this community. Historical records of political and social organizations founded by LGBTQ individuals are featured, as well as publications by and for lesbians and gays, and extensive coverage of governmental responses to the AIDS crisis. The archive also contains personal correspondence and interviews with numerous LGBTQ individuals, among others.
Nexis Uni (LexisNexis Academic)
Use it to find newspapers, wire services, broadcast transcripts, company profiles, court cases.